Describes how to configure your Juniper Mist to activate the Cloudi-Fi splash page feature
This setup consists of below main parts:
1) Note the Cloudi-Fi Redirect URL
Go to Cloudi-Fi admin interface Settings Integrations.
Select Mist (Juniper) and copy the "portal URL," and save it in a notepad.
2) Configure the WLAN in the MIST interface
In Mist Dashboard, go to Network WLANs and edit the WLAN where you want to enable Cloudi-Fi.
In the Security section, select "Open."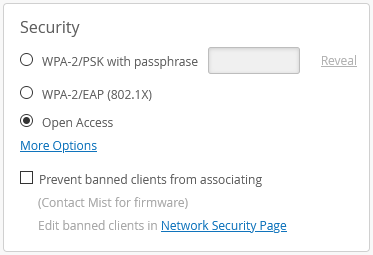 In the Guest portal section:
Select "Forward to the external portal."

Portal URL: paste the Cloudi-Fi URL

Allowed Hostnames: cloudi-fi.net, cloudi-fi.com (different URLs may be required if you use social networks connectors).

Note the API secret in a notepad.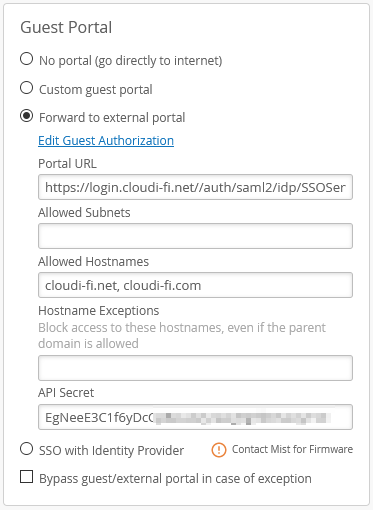 3) Configure the API Secret in Cloudi-Fi
Return in Cloudi-Fi admin interface Settings Integrations ‣ Juniper Mist
Fill in the API Secret key and click on "Save changes."