Describes how to configure your Extreme Cloud IQ to avoid visitors to be redirected on the splash page after 30min inactivity
By default, when a visitor triggers the Session Idle Timeout timer (between 1 to 30min max) due to inactivity, his session will be deleted by the AP. When the user will want to use the network again, he will be redirected to the splash page.
Here is to configuration to avoid this behaviour.
Note: In this article, we assume that you already configured your Cloudi-Fi Guest SSID.
If not, please check this article :
---
Go to Configure Network Policy Edit your Policy Wireless Networks tab
Go to the MAC Authentication tab and enable it.
Authentication protocol: PAP
---
Scroll down to the User Access Settings section:
Apply a different user profile to various clients and user groups: Enabled
Allow user profile assignment using RADIUS attributes: Enabled
Standard RADIUS Attribute: 11_Filter-Id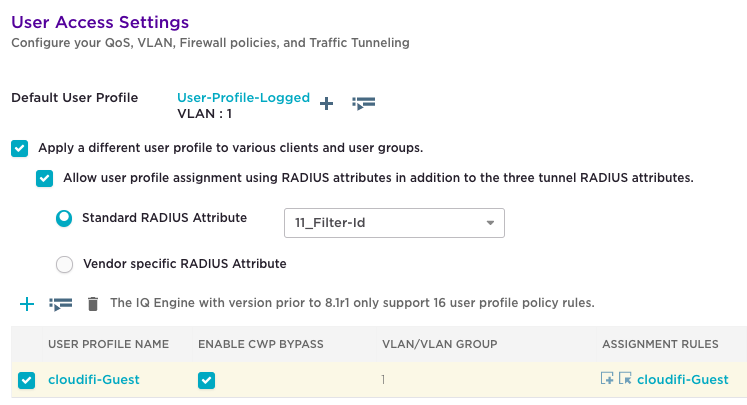 Then click on the + to add a user profile rule.
Name: cloudifi-
Click Save User profile
Note that this profile name must match an existing profile in your Cloudi-Fi account.
The name of the profile in CloudiIQ must look like this: cloudifi-
To verify your Cloudi-Fi Guest profile, go to Cloudi-Fi admin UI Identities Profiles.
Tick "Enable CWP BYPASS"
Then create an Assignment Rule for this profile.
Name: cloudifi-
Click + to add the RADIUS Attribute rule :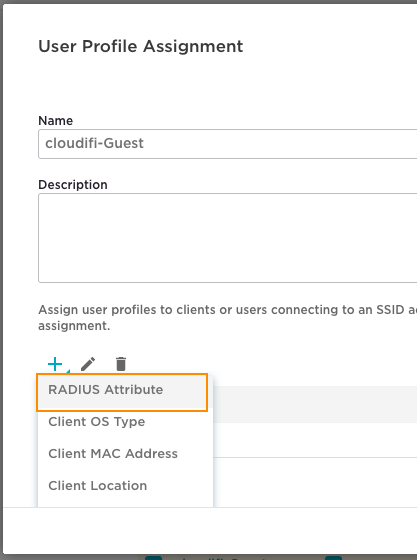 Select A single standard RADIUS Attribute Value Pair
Attribute value: cloudifi-
Click OK and Save the rule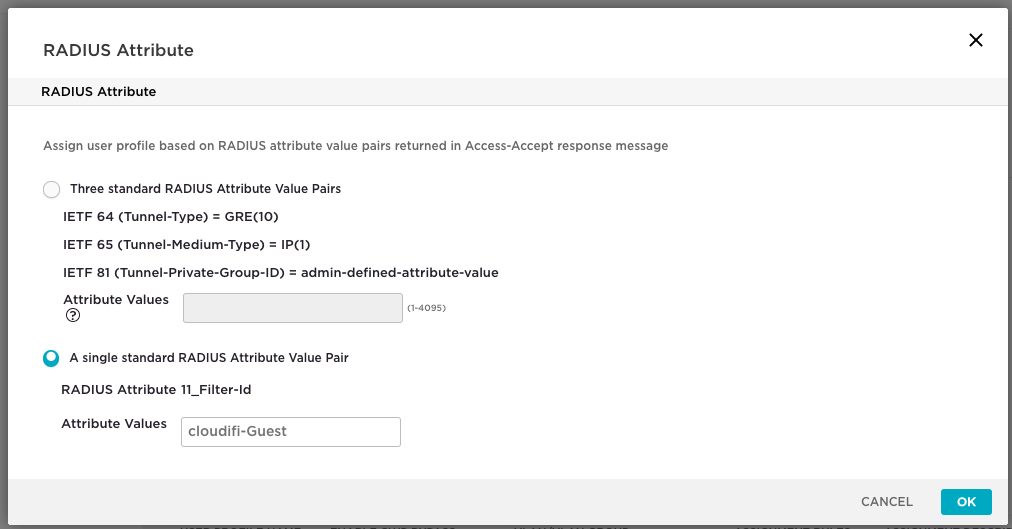 ---
Save the Wireless Networks tab.
---
Go to the Deploy tab and deploy the policy on your devices.