Step-by-step instructions to set up Cloudi-fi DHCP service for your Guest
Prerequisites:
Before starting, ensure that you collect all parameters of your existing DHCP service for Guest
In many cases, our Cloud DHCP will replace an existing one. To anticipate the required information in the next steps, we recommend collecting all parameters of your existing solution (IP range, DHCP relay, Options, etc.)
Step 1: Configure DHCP on the location concerned
Go to Cloudi-fi Admin COnsole > Network > DHCP
If this option doesn't appear, your admin rights don't allow you to use the DHCP Service. For that, you need to contact your Cloudi-fi support team to allow DHCP service for your account (cf. Administrators Profiles Select your Profile Special roles)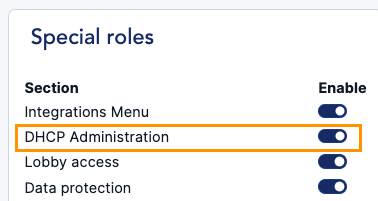 Then select the network in which the DHCP Server will be accessible from your network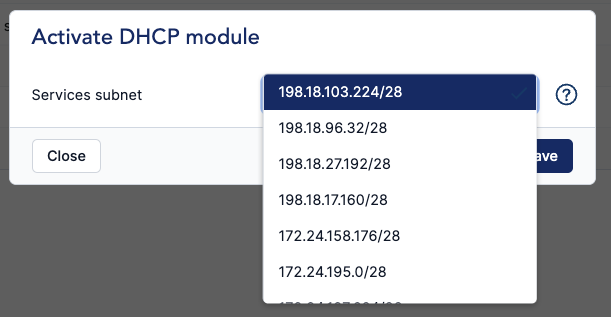 Then, select the location on which you want to configure Cloud Guest DHCP
Now you can fulfill all DHCP parameters according to your need.
Location configuration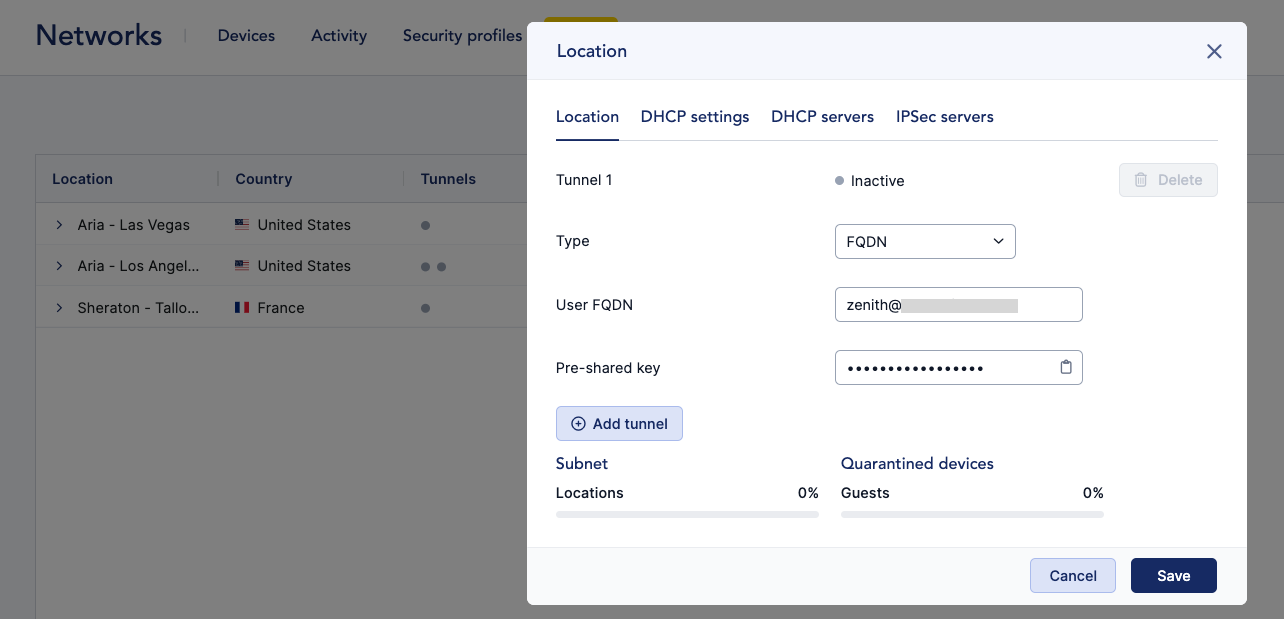 Location
DHCP Settings

Lease time: lease for unauthenticated used

Extended Lease: lease duration for users already authenticate

Default Gateway: Last subnet IP or First subnet IP

DNS: DNS the Guest user needs to use

Advanced settings (NTP, SMTP, etc.)

DHCP Servers

Service Subnets: IP range (in which DHCP will be) needed to be routed into your tunnel. It is the (/28) defined in step 1.2 divided in two (/29)
Server Address: IP (primary / secondary) to use by the customer to join DHCP service

IPSEC Servers

Cloudi-fi nodes to use for IPSEC VPN
Subnet configuration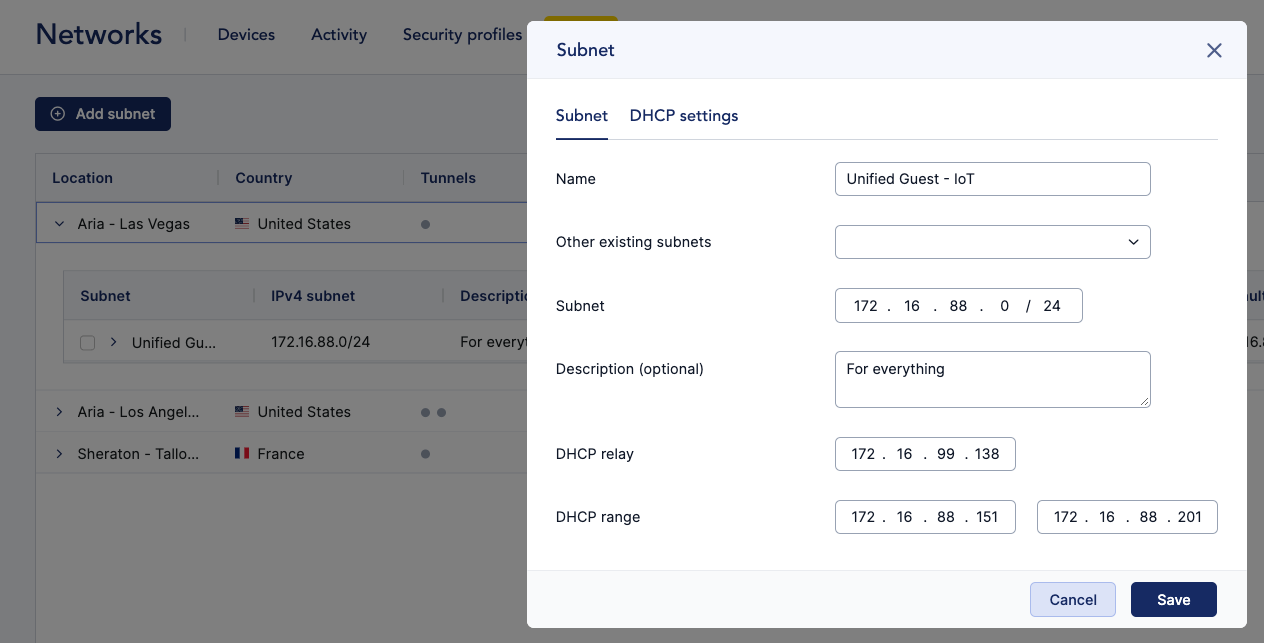 Subnet

Name: Name of your subnet

Subnet: IP range to use for new Guest

DHCP Relay: IP of the DHCP relay routing DHCP traffic to the actual DHCP server (default gateway)
Step 2: Build the IPSEC VPN Tunnel between your location and the Cloud DHCP
DHCP Server IP address
VPN Endpoint IP

EMEA

87.98.189.202

135.125.2.85

APAC

51.79.178.35

139.99.69.206

US

51.81.66.49

147.135.104.170
Recommended settings for IPSec tunnel (IKEv2)
Components

Phase 1

Phase 2

Confidentiality

AES-256
AES-128

AES-256
AES-128

Integrity

SHA-512
SHA-256
SHA-1

SHA-512
SHA-256
SHA-1

Authentication

Pre-Shared Key (PSK)

N/A

Protocol

N/A

AH

ESP

Encapsulation Mode

N/A

Tunnel Mode

Key Exchange Method

Diffie-Hellman

Diffie-Hellman

Diffie-Hellman Group

2 (​​modp1024)
14 (modp2048)
19 (ECP256)
21 (ECP521)


2 (​​modp1024)
14 (modp2048)
19 (ECP256)
21 (ECP521)

Total Child SAs Supported

N/A

8

SA Lifetime

3 Hours

1 Hours

SA Lifebytes

Unlimited

Unlimited

NAT-Traversal

Enabled

N/A

NAT Keepalive Interval

30 Seconds

N/A

Dead Peer Detection (DPD)

Enabled

N/A

DPD Timeout Interval

30 Seconds

N/A

DPD Maximum Retries

5

N/A

Perfect Forward Secrecy (PFS)

N/A

Disabled

Maximum Transmission Unit (MTU)

N/A

1400 Bytes

Maximum Segment Size (MSS)

N/A

1360 Bytes
Note :
Other encryption protocols are supported - please contact you Cloudi-fi support to know them