Our step-by-step guide describes how to configure social networks registration on your captive portal.
You can choose to let your users log in by using their social network credentials. Here is what it looks like from the user's perspective: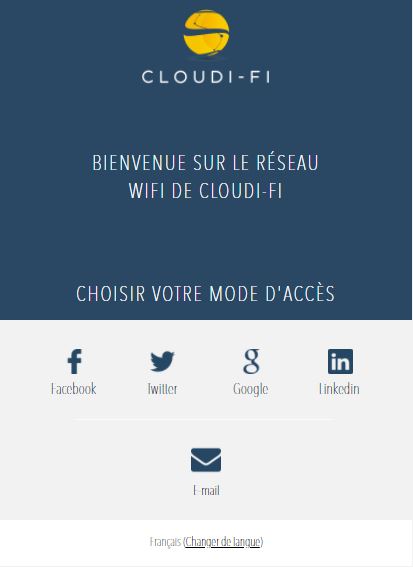 When the user clicks on the social network of their choice, they will be redirected to the social network login confirmation page and back to the landing page you provided when creating the portal.
Integrate the social network registration in your portal template
When uploading the outlet, it will be parsed to look for an HTML element with the source property set to the registering method. It must be in the form HTML element. The form element can have no properties; they will be added automatically when uploading the template. It is advised to do it on the submit element like this:
The rest of the authentication process will be done on the backend making social network registration a no-hassle process for you.
The following authentication providers can be used:
Google

Facebook

Twitter

Linkedin

Instagram

Pinterest

WeChat