Describes how to configure your Aruba Mobility Controller to activate the Cloudi-Fi splash page feature.
1) Get Cloudi-Fi required URL
Location URL:
This URL will be used to configure an External Captive Portal
Cloudi-Fi administration Locations Click on the menu button of the location and select Copy Splash page URI
Transform the URI as follows:

2) Create a WLAN
Go to Configuration WLANs Click on "+"
Name (SSID): whatever you want
Primary Usage: Guest
Broadcast on: Depending on your existing configuration.
Forwarding mode: Tunnel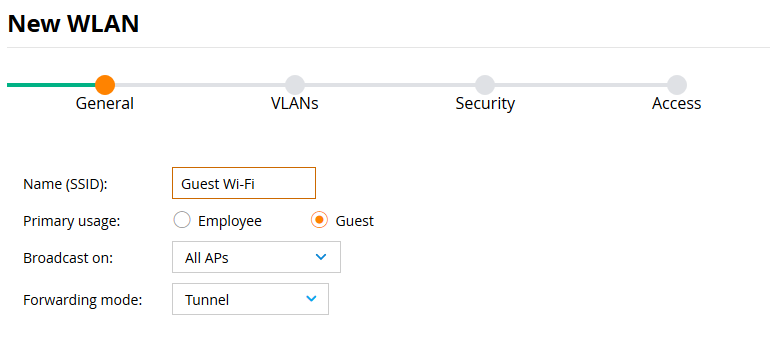 Click Next.

VLAN configuration is depending your existing configuration.
We recommend you assign a dedicated VLAN for your Guest.
Click Next.
In the Security tab,
Select "ClearPass of other external Captive Portal"
Click on "+" to add an Auth Server: information will be provided by Cloudi-Fi Support
Host addressing: IPv4
Host: login.cloudi-fi.net
Page: will be provided by Cloudi-Fi Support
Redirect URL: can be blank.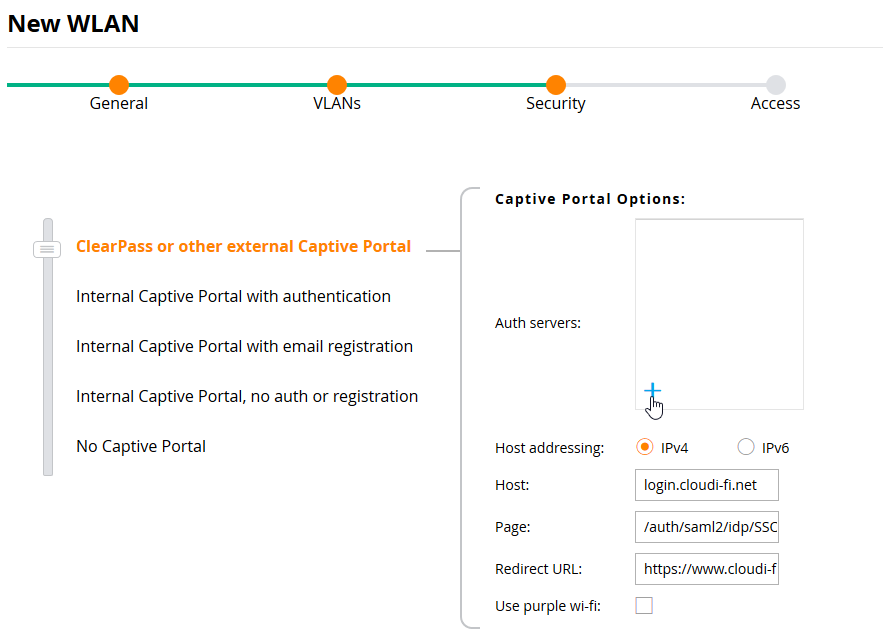 Click Next.
On the Access tab, click Finish.
3) Create Firewall Whitelist
Go to Role & Policies Aliases Click on "+"
Name: Cloudi-Fi-Whitelist
Add these "name" entries:
*.cloudi-fi.net

fonts.googleapis.com

font.gstatic.com
(If you have social media on your captive portal, Cloudi-Fi support will provide you with extra needed URLs)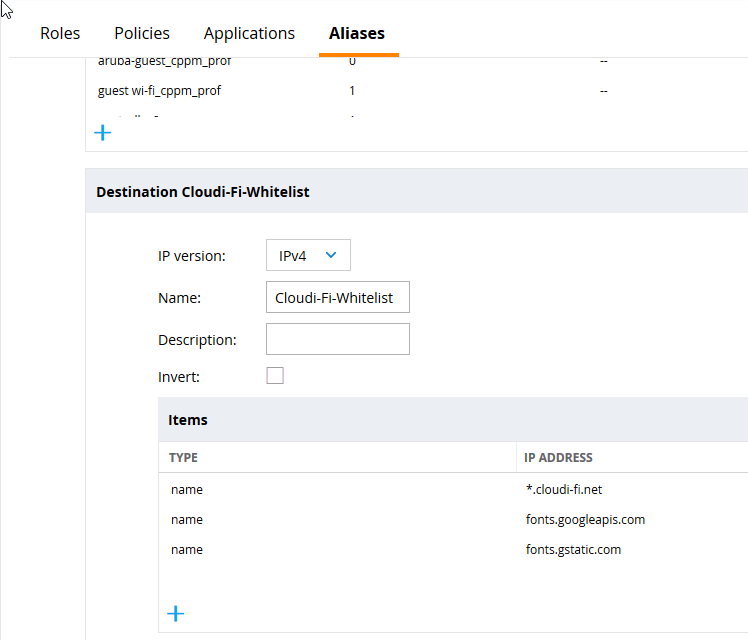 4) L3 Captive Portal
Go to Authentification L3 Authentication *YourGuestSSID*_ccpm_prof

Default Role: Guest
Default Guest Role: Guest
Redirect Pause: 0
User Login: Enabled
Logout popup window: Disabled
Show Welcome page: Disabled
Add Switch IP address in the redirection URL: Enabled
Add user VLAN in redirection URL: Enabled
Adding AP(s MAC address in redirection URL: Enabled
Whitelist: Add "Cloudi-Fi-Whitelist" aliases
Click on Submit