Describes how to configure your Aruba Instant AP to activate the Cloudi-Fi splash page feature.
This setup consists of below main parts :
1. Get Cloudi-Fi required URL
Location URL : this URL will be used to configure an External Captive Portal
Cloudi-Fi administration Locations Click on the menu button of the location and select Copy Splash page URI
Transform the URI as following

2. Network configuration
On the Virtual controller interface, go to Configuration Networks
Click on the « + » to create a new Network

Choose a name to your Network then select the type « Wireless » and the Primary usage « Guest »

Click on Next then select your Vlan parameters
These parameters depend on your infrastructure but we recommend to choose « Network assigned » and « Default » as your Client IP and VLAN assignments

You can click on Next and go to the Security part
3. Security configuration
Splash page type : External
Captive portal profile : Click on « + » to create a new portal
Authentication server : Click on « + » to create a new authentication server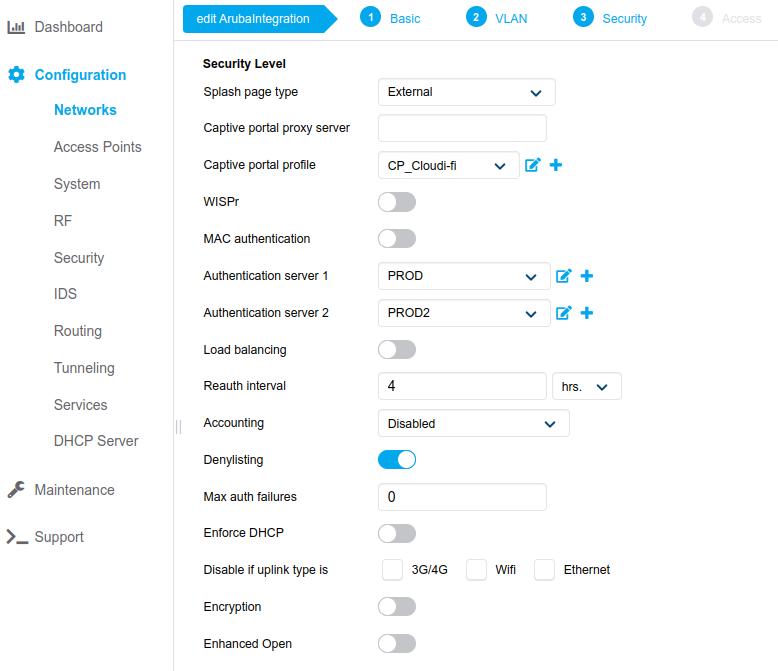 4. Create a captive portal profile
Once you've clicked on the « + » to create a new captive portal profile, a pop-up appears
Type : RADIUS Authentication
IP or hostname : login.cloudi-fi.net
URL : the one that you've modified here
Port : 443
Use HTTPS : selected
Captive Portal failure : Deny Internet
Redirect URL : optional
Then click on « OK »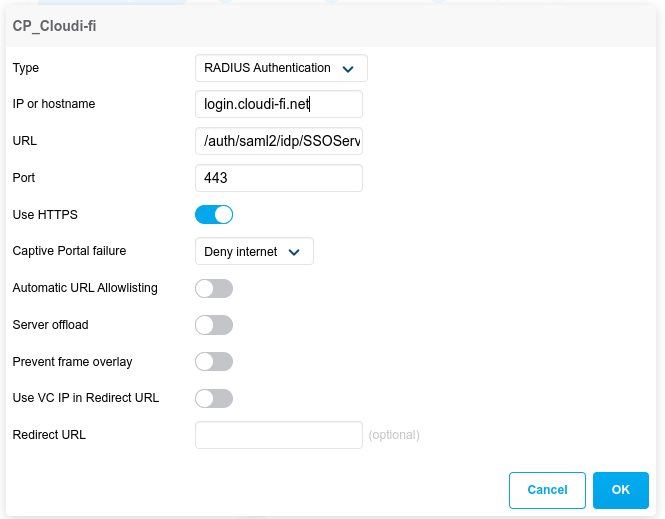 5. Create an authentication server
NB : You can have the servers informations here
Enter these informations as following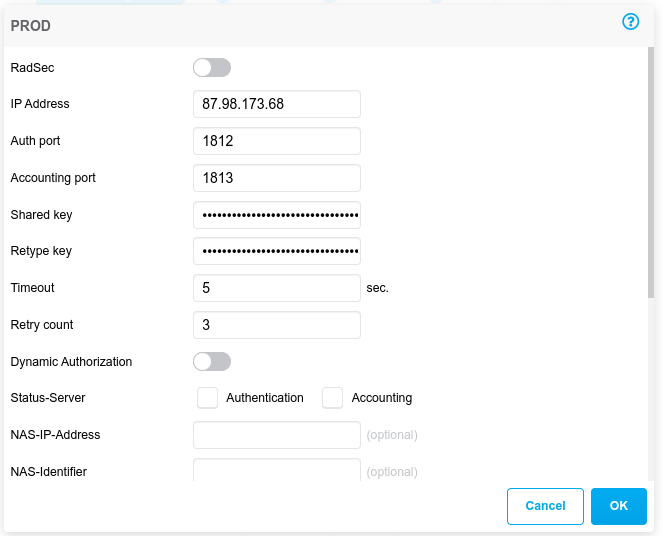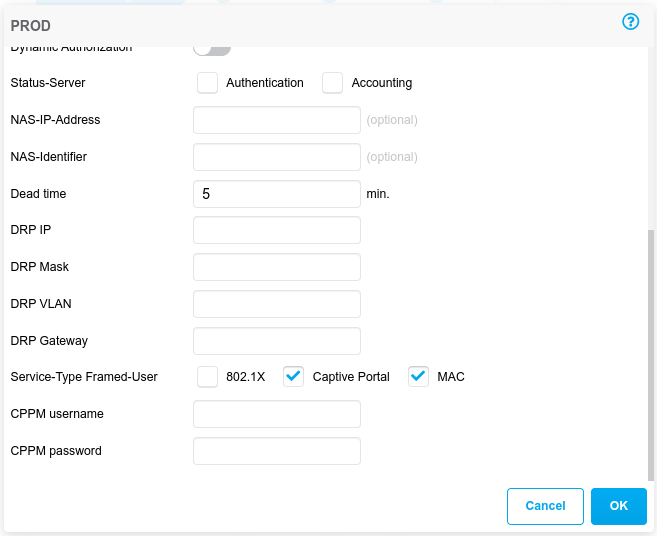 Don't forget to select Captive Portal and MAC
Then click on « OK »
6. Configure the access rules
Once you've finished the security part, you can configure the Access rules
Access Rules : Unrestricted
Download roles : unselected
Then click on « Finish »
Your captive portal is configurated
7. Add a certificate
You may encounter some troubles to display the portal captive. The most common reason is the lack of certificate.
To add a certificate, you have to go to Maintenance Certificates then click on upload New Certificate.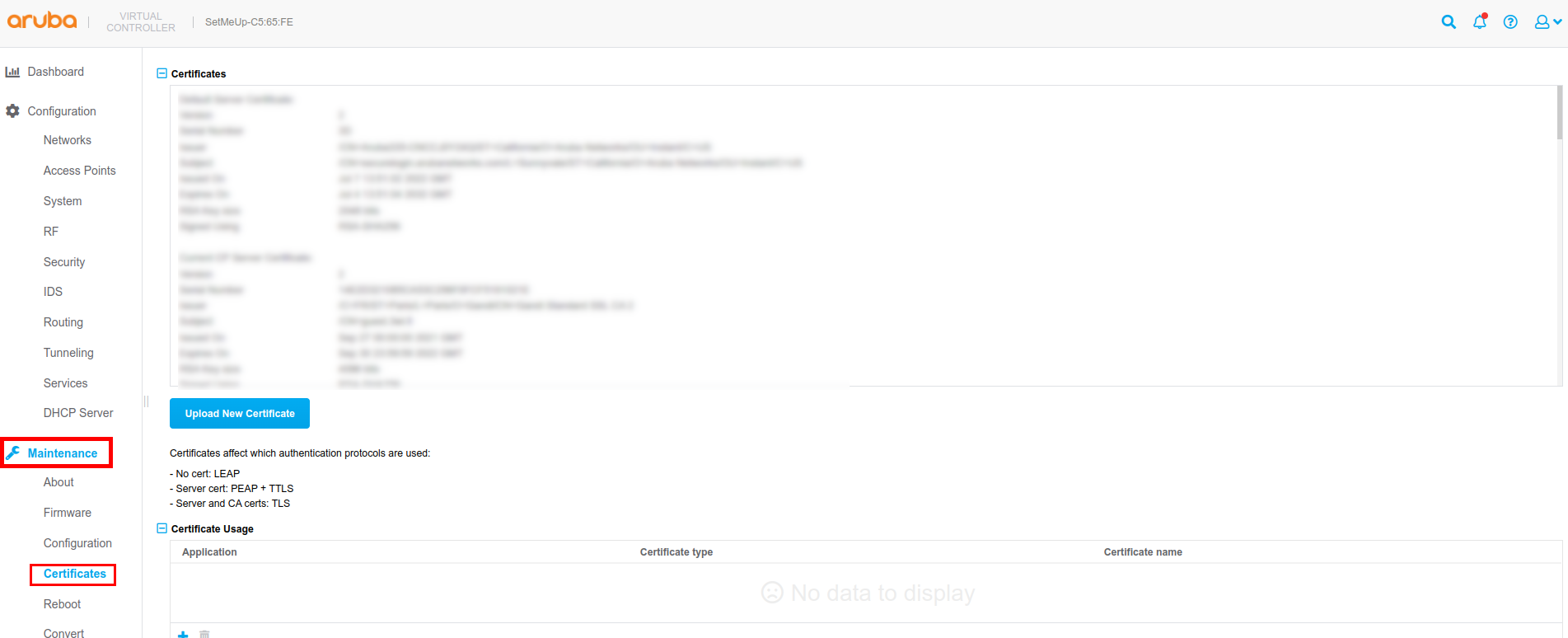 A pop-up appears on your screen, you can now add your certificate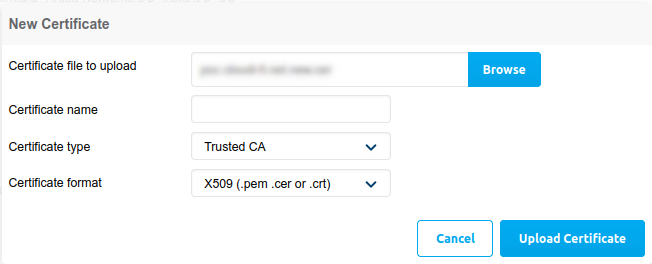 If you have any questions, please contact us - How to contact your support?