In this guide, we will walk you through the process of configuring Cloudi-fi Captive Portal within a dedicated Zscaler tenant provided by Cloudi-fi.
Overview
Cloudi-Fi Captive portal is configured into a dedicated Zscaler tenant (provided by Cloudi-fi and synchronised with your Cloudi-fi tenant). You will need to configure GRE/IPSEC tunnels with this dedicated Zscaler tenant and route your Guest traffic into it.
Prerequisites
Before starting the deployment, Cloudi-fi will synchronize your Cloudi-fi tenant with the dedicated Zscaler tenant.
Configuring Locations for Zscaler Integration
To integrate Zscaler with Cloudi-fi using a dedicated tenant, you have two options for configuring locations:
IPSEC with IP or with FQDN
GRE
To create new locations, follow these steps in your Cloudi-fi Admin interface:
Navigate to the "Location" section.
Click on "Create New Location."
Provide the following details for each location:

Location Name
Type (IPSEC with IP / IPSEC with FQDN / GRE)
Based on the chosen type, follow the respective instructions below:
For IPSEC with IP:
Fill in the Public IP of the location to be deployed.
Fill in the Country field.
Click "Save."
For IPSEC with FQDN:
Fill in the Country field.
Click "Save."
For GRE:
Fill in the Public IP of the location to be deployed.
Fill in the Country field.
Click "Save."

To collect the VPN parameter for configuring your VPN tunnel with Zscaler, go to your Cloudi-fi Admin interface > Location and select the location created > Edit location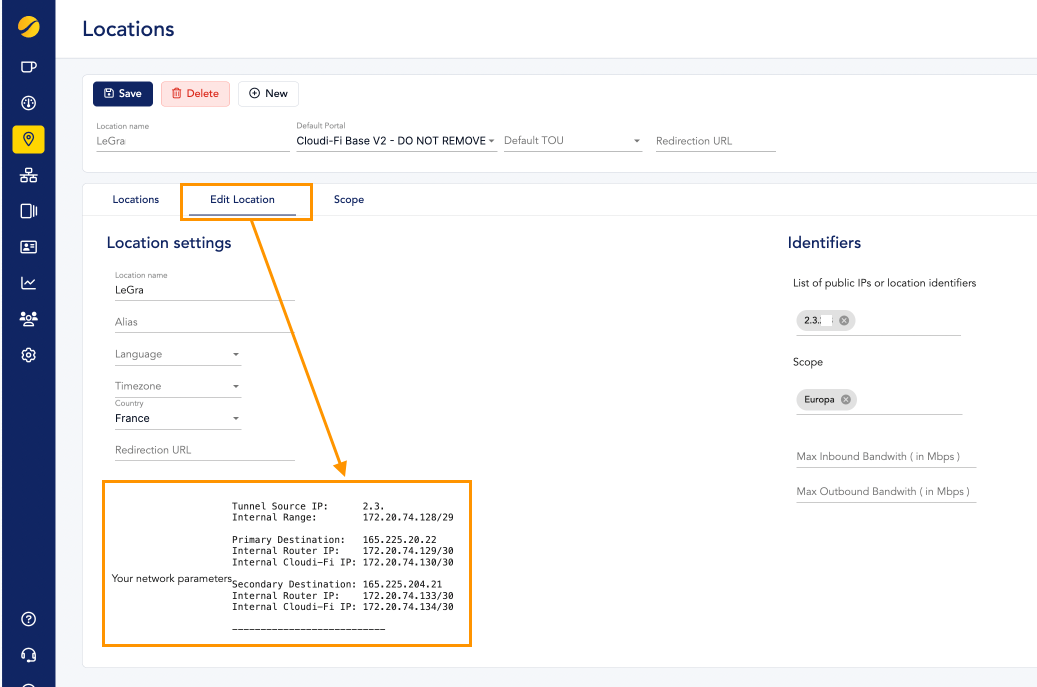 Instructions
Step 1:

Setting Up the VPN Tunnel for Cloudi-fi Solution

Using the VPN parameters obtained in the previous step, configure the VPN tunnel between your infrastructure and Zscaler. Follow the guidelines provided for IPSEC or GRE configuration.
For IPSEC :

IP_Surrogate:

Step 2:

Configuring LAN Prerequisites

To use Cloudi-fi solution, create an Open SSID for guests and route guest traffic through the previously configured tunnel.
Troubleshooting:
Once you have completed the configuration steps, you are now ready to start using the Cloudi-fi captive portal solution. If you encounter any issues or have any questions, please do not hesitate to reach out to our Support team.

Additionally, you can consult the Cloudi-Fi and Zscaler Troubleshooting guide for further assistance.
What's Next?:
For more information about our solutions integrated with Zscaler, including a how-to video and a comprehensive solution brief, please visit our partner page.